Online Bingo Reviews
Filter by Letter
 or View All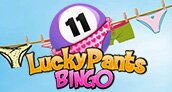 Lucky Pants Bingo
January is always an exciting time, as we never know what the New Year might bring us, and the team behind top online gaming sites, Kitty Bingo and Spin and Win, have come up trumps with a fantastic new treat for players for 2013. Lucky Pants Bingo is a brand-new development from Daub Alderney Limited. […] Read More
Play Now
Grab 500 free bingo cards + 20 Free Spins here

Welcome to the Sunlight Bingo Reviews section! Here you will find all the facts, figures and features of the most amazing bingo sites to hit the UK market. Of course the sites listed in our bingo reviews category are outstanding - they have to be to be featured here. If a bingo site doesn't make the grade then sadly they are kicked to the kerb in favour of a bigger, better and more bountiful bingo site instead.
The Sunlight Bingo review team, spend many hours searching, playing and then writing up their findings; so that when you visit a site listed here you know exactly what to expect. There is nothing worse than making a deposit at a site only to find that it doesn't match your expectations; you then have the choice of leaving your cash in or playing through and so wasting your money on a bingo site that you don't enjoy playing at.
Whether the site featured in our Bingo Reviews section are new bingo sites to the market or an old faithful that has been around for donkeys years, they will still go through the same testing process; everything from the sign up bingo bonus offers, the game play and the monthly offers etc. Every area of the many sites listed in the Sunlight Bingo Reviews section has been put under the Sunlight Bingo microscope to make sure they pass with flying colours; and if they do then they are given a virtual rubber stamp marked 'Approved' as fit for our discerning Sunlight Bingo readers and featured……. And if a site doesn't make the grade then they receive a big fat red 'Reject' and are filed under bin!
Our bingo reviews cut out the time wasting element; they inform you fully of all the best bits about a site….. plus some of the not so great bits. Well we do have to be Devil's advocate sometimes; after all you wouldn't think we were quite so great if we hid the facts from you. The team at Sunlight Bingo sniff out all the best bingo sites and although sometimes you might not find a site listed here, you can be sure that we have visited and played but decided that it is not quite good enough to make the grade. This is helpful to you, our wonderful readers because you know for sure that when you visit a site from our simple to use 'Play Now' link, that you will be transported effortlessly to a site that has been tried , tested and has passed our rigorous trials. This leaves you just the difficult problem of having stacks of fun and hopefully a win or two.