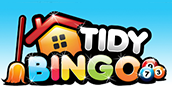 Play Now!
January Network Promotions At Tidy Bingo
Tidy Bingo may be famous for their exclusives, but their network also provides them with a great mix of promotions each month, guaranteeing that their lucky players have plenty of chances to win something special. Now the festivities are over and done with for another year, the odds are you are feeling a bit worse for wear, whether that is down to all of the stress or maybe one mince pie too many, they are here to get you back into shape with their Fitness Frenzy!
Tidy Bingo have lied up a range of fitness related prizes including a Fitbit Flex wristband, a Breville Active blender, Lauren Goodgers new OMG! workout DVD and Lorraine Kelly's Living to the Max work out DVD. Each week during January, four of their players will win one of these prizes through their special draws. To guarantee your name is included, all you need to do is pick up entries, and they will be awarded for every £20 you wager on that week's featured game:
·       Monday 4th to Sunday 10th January – Call of The Colosseum
·       Monday 11th to Sunday 17th January – Go Bananas
·       Monday 18th to Sunday 24th January – Wu-Shi Lion Dance
·       Monday 25th to Sunday 31st January – Cup Carnival
If you prefer cash to prizes though you are in luck, because Tidy Bingo is hosting a jackpot game at 9pm on Saturday 23rd January with a £1,000 prize pot:
·       Full house – £300
·       Two lines – £200
·       One line – £125
·       3TG share – £125
·       2TG share – £125
·       1TG share – £125
If money is a bit tight after Christmas, don't fret because as long as you are a funded player, you can take part in this special game for free, simply by logging into your account, heading to the Tidy Bingo lobby and claiming your 96 free cards.