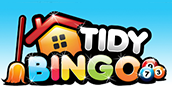 Play Now!
Game on at Tidy Bingo
Christmas has been and gone but for one online bingo site the presents aren't going to be stopping anytime soon. Tidy Bingo are still providing opportunities for their players to win some huge prizes that anyone would love to get their hands on. Game on is the name of their most recent promotion, giving Tidyers the chance to scoop themselves a PlayStation 4 and a game.
The PlayStation 4, with its slimline design and operating system that makes the Xbox One look like a Nintendo 64, is one of the most sought after games consoles of the past decade. (This is the part where we had to do a bit of research as we really had no idea). It has a custom single chip processor that combines an 8 core "Jaguar" CPU with a 1.84 teraflop GDU and the console itself has a 500GB mechanical hard drive. Don't worry, we don't know what any of that means either.
Luckily, how to win the PS4 is much simpler than what goes on inside the thing. All you have to do is earn entries into a prize draw that will be taking place at the end of the promotion. You can earn these entries at any time between 6th and 26th January and you can earn as many as you like. The more you have, the higher chance you have of winning.
To win entries into this metaphorical hat you just have to do any of the following;
Depositing £20 in a single transaction
Wagering £10 on Bingo or £20 on Slots
Buying six tickets to the Friday Fever game
It really is that easy to get entries. So what are you waiting for? Get yourself down to this site and see if you can get your hands on this colossal console and get your Game On at Tidy Bingo.