Deal or No Deal Slot
The Deal or No Deal bingo slot game is based on the extremely popular Deal or No Deal gameshow, so if you have ever watched this on TV and wanted to join in here's your chance! The game give the most amazing prizes in fact the largest prize yet to be won playing Deal or No Deal slot was a fabulous £1.96 million – a real life changing sum. So if you choose to play this popular bingo slot then you can have fun and hopefully have a big win at the same time.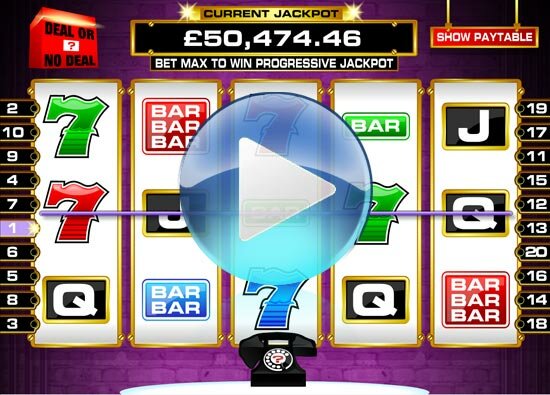 This is a 5-reel, 20 payline progressive game that also has three different bonus games, all based on around the Deal or No Deal show. This popular bingo slot game can be played with either 5p, 10p or 20p per payline. Each amount chosen has its own progressive jackpot with the maximum payout being a very respectable 10,000 times the wager.
The fun really starts when you play one of the bonus games as this gives you the real taste of the gameshow, especially when you play the Deal or No Deal Bonus game. This will see you faced with a succession of boxes with differing amounts of cash inside, and you will have the thrill of trying to pick the box which contains the progressive jackpot.
You may not be under the studio lights, faced with cameras and an audience but you will still have the added pressure of the Banker offering you a Deal. Only you can decide what to do, but as you turn away boxes, which you hope only have small amounts inside, the pressure grows, as does the amounts of money the Banker will tempt you with. The bonus round will end when you either get to the last box or you decide to accept an offer. There are 22 boxes and only one progressive jackpot, but each person who plays will have an equal chance of winning.
All in all this is a great bingo slot game, fun and easy to play but with great potential for a large win on the bonus games.
Software:
Gamesys
Game Functionality:
The Deal or No Deal game is very easy to play, once you have decided how much you want to wager on each spin you simply select how many lines you want to play with and then spin away. The game uses traditional symbols which include cherries, the number 7 in various colours and three different bar symbols.
There is a very clear paytable at the top right of the game, which as well as showing you how much you can win from the various symbols also explains the three different bonus stages. You will also see the famous red Deal or No Deal box on the top left of the game -the most famous symbol from the TV show – and in case you need more motivation, the current progressive jackpot is on display at the top of the screen. Just be aware though that you need to Bet Max to be in with a chance of winning this.
Progressive jackpot:
Yes
Bonus features:
• If you manage to get 3 Mystery Bonus symbols on a payline you'll move on to the Mystery Box Bonus game. Here you will be presented with 15 boxes, 11 of which hold cash prizes, 1 is a Win All box, so you strike it gold and get all of the prizes, and the other 3 are empty. This bonus round will end as soon as you pick an empty box, so choose wisely for a jackpot bonanza.
• If the telephone rings as the reels are spinning you know you are about to win. The Banker will offer you a certain sum and it's up to you to decide if you want to Deal, and take his offer, or say No Deal and leave it up to lady luck. Just like the gameshow you'll see what the reels would have given you even if you do accept the Banker's offer.
• The Deal or No Deal Bonus Game is where you can really walk away with a fantastic prize, but you have to Bet Max on all 20 lines to be in with a chance of this. If you get three Deal or No Deal bonus symbols on a payline you'll start playing the bonus game. You'll be presented with a box which could hold the progressive jackpot, a penny, or any amount in-between. Just like in the studio game the Banker will appear and make you various offers as you try and select the jackpot box.