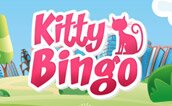 Play Now!
9 Chances to Win £500 this Month at Kitty Bingo
Kitty Bingo want to test your feline skills this November with their 9 Lives – 9 Jackpots promotion. During the course of the month, there's a series of special games taking place and you could win £500 each time. It doesn't matter whether you prefer 90-ball or 75-ball games as you'll have the chance to play either or both if you want to increase your chances of winning.
The 9 Lives – 9 Jackpots games play every Monday and Friday November 2013 at 9.30pm. They've created a special tab of the same name in the Kitty Bingo lobby where you can pop by and grab your cards in advance. Cards for the 75-ball games cost 25p each while cards for the 90-ball games cost 10p each, and you can pre-buy a maximum of 96 cards for each game.
With the 75-ball games, there's only one way to win and that's by completing the coverall pattern. The prize up for grabs is the full £500 although, if there's more than one winning roomie, the money will be split equally. If you decide to play the 90-ball games, you'll get £100 for a one-line win, £150 for a two-line win, and a fabulous £250 for a Full House win. Again, if there's more than one winner of any of these three prizes, the relevant cash prize will be divided equally.
The 9 Lives – 9 Jackpots promotion is only one way you could become a winner this month at Kitty Bingo. There are, of course, plenty of other prize-winning promotions to get involved in. For example, every Tuesday night at 10.30pm, you can play for the chance to scoop an iPad for as little as 20p. Alternatively, if you like playing for cash prizes best, don't miss the £5k Cash Flash which takes place on the last Friday of the month at 9pm. For just 10p per card, you could get your hands on £1,000 for a one-line win, £1,500 for a two-line win, £2,000 for a Full House, or a share of £500 if you're left with 1TG. If you fancy boosting your loyalty points collection, how about trying the TGI Friday games which take place throughout the day every Friday in all the 75-ball rooms. If you're one of the twenty players to get a Full House on the letters T, G, or I during the course of the day, you'll grab 2,000 loyalty points which you can exchange into bonus money to play more of your favourite games with.
If the thought of all this is making you purr with pleasure, make sure you pay a visit to Kitty Bingo today.