Eat Sleep Bingo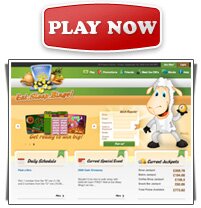 Eat Sleep Bingo is a great name for an online bingo site as it sums up exactly how most online bingo players are when it comes to their beloved game. Eat Sleep Bingo have tried to provide a simple user friendly site that offers a lot of benefits to their online bingo account holders, so you will find a monthly cash back promotion, personalised avatar function, as well as straightforward user friendly online bingo rooms. Certainly from a player perspective the newly launched Eat Sleep Bingo has a lot of lovely little touches on the home page that make the site an enjoyable place to visit.
Players are greeted immediately by pleasant visuals like the endearing little 'Woolly' sheep character that makes make you feel all warm and fuzzy straight away, and provides a really cute welcome to the online bingo site. Functionality wise, there are tabs on the home page which provide helpful information such as who the CM on duty is, also a very useful 'quick register' option and recent big news at the Eat Sleep Bingo site as well as the Daily Schedule of games and prizes, jackpots available to be won etc. You would therefore think with so much going on that Eat Sleep Bingo would be cluttered, but in fact the site doesn't seem claustrophobic at all, everything is neatly positioned with careful consideration given to providing maximum information with minimal impairment to the aesthetics.
Visit Eat Sleep Bingo here!
One of the things that this writer particularly dislikes is an abundance of GIF's and a home page so jam packed with data that it is difficult to make out the wood from the trees. Well done Eat Sleep Bingo, the team have done so well to be able to balance the visuals, whilst still providing the information that every player would want or need immediately.
Eat Sleep Bingo offer also what is fast becoming a prerequisite now, free bingo tickets. Online bingo players searching for the best of free bingo games may be a little disappointed that there doesn't appear to be completely free to play bingo rooms, and that maybe the jackpots aren't a little higher, but hey this is a new site. After all there are plenty out there that don't offer any free bingo at all, so the fact that they are available at Eat Sleep Bingo is a real bonus.
Eat Sleep Bingo has a 'Friends' section, this section features all the top online bingo winners each week and each month, this provides players with the opportunity to enjoy some kudos for being lucky enough to have a big win. Also the Chat Managers at Eat Sleep Bingo choose their Roomie of the month, this player will also be mentioned on the Friends pages and will receive a £25 bonus into their online bingo account.
We are quite impressed overall with Eat Sleep Bingo, it certainly has all the ingredients for being a great online bingo site, friendly chat rooms, great offers, an outstanding opening bonus offer – lets just hope the team at Eat Sleep Bingo can keep it up!
Deposit methods:
Debit / credit cards, PaySafeCard, Click2Pay, Ukash, Switch/Solo
Software:
Cozy Games

Customer Service:
Email: support@eatsleepbingo.co.uk or bingomanager@eatsleepbingo.co.uk
Or online support ticket
Response within 24 hours
Registered Address / Company name:
PYRAWN MANAGEMENT GROUP LIMITED
License:
licensed in Cyprus
Game Functionality
Powered by Cozy Games, online bingo players will either love or loathe the bingo rooms, we fall into the love it here. There is a tendency in the industry to bemoan Cozy software, we however find it easy to use, some scathing industry experts might say simplistic we prefer classic as a description, after all 'if it ain't broke don't fix it'. Cozy software works fine, provides some useful options such as the pre-buy slider 'quick by' option, clear graphics and also a very clear display of how many balls a player is away from a win, so don't be a bingo snob and listen to others, as there isn't much wrong with the software at Eat Sleep Bingo.
Guaranteed jackpots / monthly offers
Monthly cash back offer – the more that is wagered the higher the amount of cash back
Daily promotions listed on the Eat Sleep Bingo site
Sign up and deposit bonuses
At the moment (until Oct 15th 2009) Eat Sleep Bingo have launch offer of 600% cash match, this is spread equally over first two deposits.
Tiered deposit bonus available, starts at 50% for deposits over £30 up to a maximum of 150% for deposits of £300
Games available
90 ball bingo, 80 ball bingo, 75 ball bingo, 30 ball bingo
90 ball free bingo, 80 ball free bingo – Buy 1 ticket get 12 free bingo tickets, daily 8.00 – 9.00 pm
Slots, multiplier slots, 5-line slots, 1-line slots and instant games are all available at Eat Sleep Bingo