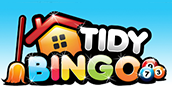 Play Now!
Dream Team Bingo With Tidy Bingo
Forget about football, here's a Dream Team with a difference. Introducing Dream Team Bingo proudly hosted by Tidy Bingo and the 15 Network. This promotion is one that is run by the 15 Network, so available on all sites across the network and offers you a great way to play along with a team of bingo lovers. It also offers you the chance to win a share of an impressive prize pool of loyalty points every single month.
Differing from the usual practise of a Dream Team, in this very exclusive 'Team' you are not required to build it. By simply emailing Tidy Bingo for a request to be added, you will be allocated a team that consists of four other players. To ensure any points you score are added to that of your team, you are required to deposit and wager a minimum of £5 during the qualifying period that you are taking part in Dream Team games. Once you are part of the promotion and if you continue to meet the qualifying requirements, you will be automatically entered into a team for the following month.
Every month the teams are reshuffled and the scores are set back to zero, making every month a new month for Dream Team Bingo. For every full house win in the 75 ball and 90 ball games you will earn points that will be added to your team's score.
There are a whopping 300,000 loyalty points up for grabs, and the top ten teams with the highest score line will take away a share of the prize. Below is a breakdown of how the prize will be awarded:
1st place team will win 95,000 loyalty points to share.
2nd place wins 75,000 loyalty points to share
3rd place wins 55,000 loyalty points to share
and so on, right down to the 10th place whose team wins 5,000 loyalty points to share.
Make sure you become part of a Dream Team Bingo down at Tidy Bingo where you could clean up nicely with a serious amount of loyalty points.