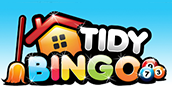 Play Now!
Bonfire Bargains at Tidy Bingo
Now the scariest night of the year is out of the way, Tidy Bingo are focussing all of their efforts on making November go off with a bang. If you are one of their regular roomies, you will no doubt be aware of their standalone Tidy Cupboard, open every Tuesday night between 7pm and 11pm. If not, you are missing out on plenty of excusive promotions such as the Tidy Millions, the Progressive Jackpot, the Roomie of the Month and now the chance to win a pocket full of Love2Shop vouchers!
Tidy Bingo are always looking for innovative ways to reward their players, and this is why they have added the 'Bonfire Bargains' to their already impressive line-up. The way it works is actually really simple, every game that starts at half past the hour (so 7:30pm, 8:30pm, 9:30pm and 10:30pm) will see the full house winner walking away with a £10 Love2Shop voucher. Don't panic though, this does not mean you will miss out on the cash jackpot, as the shopping voucher is in addition to the usual prize, so in effect you are winning twice!
In total, Tidy Bingo has £160 worth of these vouchers to give away before the end of the month, and with Christmas just around the corner they are sure to come in handy. They can be used at literally hundreds of your favourite high street stores and online retailers including Argos, Debenhams, New Look, Toys 'R' Us and Waterstones to name but a few. That's not all though, because they can also be used to pay for experience days and entrance into some of the top theme parks and attraction in the UK.