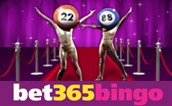 Play Now!
Big Night Out is Back at Bet365 Bingo
Every month there's at least one fun party organised at Bet365 Bingo and in February they're starting early with the Big Night Out scheduled for the first of the month. The fun kicks off at 6pm when you can get involved with tons of 75-ball fun and potentially walk away with your share of a massive £15,000.
All the special games play in the A Night on the Town room and absolutely any member can get involved. Throughout the night you can enjoy exciting 75-ball games with a range of different types to keep you interested. There will be Last Chance Saloons and buy one get one free specials as well as exclusive games with 1TG and 2TG prize pots. The climax of the night takes place at 9.30pm where you can get involved in a big money Linx game where there's £1000 to be won. Remember, this is 75-ball bingo so one lucky player will take home to whole prize.
The best thing about this promotion is that tickets can be picked up for as little as 5p and you can also buy your tickets in advance if you're busy on the night or just like to be prepared. There are a number of featured games which you can check out at the Bet365 Bingo website. There are six games featured and you can pre buy your tickets to each one, to make sure you don't miss out. They include everything from 5 Aside to Party Games to that big Linx special.
If you're interested in getting involved in this night of bingo fun and aren't yet a member at the site don't worry. You can sign up in a few short minutes and there's a tasty welcome bonus on offer for all new members too. Head on over there to find out more.