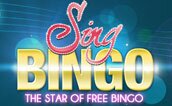 Play Now!
April Goodies at Sing Bingo
Sing Bingo have unleashed their latest round of TFI goodies, and there's bound to be one that will catch your eye. TFI games take place every month, and to it make it fairer for everyone to have a chance of winning a prize, the ticket costs are nice and low at just 10p each. There are always great gadgets up for grabs, but April's are even better than before. So, whether your house is in need of some serious TLC, you're a pop star in the making, you love a good book, or you need an affordable new mobile phone, you'll find everything you need and more just waiting to be won.
These special games take place every Friday night at 10pm, starting on 5th April 2013, where there's a portable karaoke machine waiting for the lucky winner. It also comes with The Voice Final 8 album, so you can sing along to all the tunes covered by your favourite artists from last year's show. On 12th April, someone's going to be a chirpy chatterbox when they take home a Samsung Galaxy SIII Mini Smartphone. Not only will you be able to play great games on the move, but you'll also be able to watch videos, listen to music, and do the weekly shop! Head to Sing Bingo on 19th April 2013, and if you're a full house winner, you'll be hoovering the house in style with a Dyson DC33 Vacuum Cleaner. Spring-cleaning will never be the same again with this lightweight dirt-busting gadget at your side. Finally, if you're an avid reader, make sure you play for an enviable Kindle Fire HD on Friday, 26th April. It's perfect for using at home, and even better for taking on holiday as you'll be able to pile your virtual bookshelf high of entertaining books. Plus, you can send email, browse the web, and more.
Tickets are on sale now down at the Sing Bingo lobby for 10p each, and you can buy a minimum of one and a maximum of ninety-six. If you're the first player to get a full house, one of these cracking prizes will be winging its way to you. However, only funded players are eligible to participate; so, if you haven't already got an account, make your first deposit of £10 or more at Sing Bingo today and grab a terrific 200% match bonus for your efforts.